10 Best Customer Service Plugins For WordPress
Are you looking for effective customer service plugins for WordPress? Solving product-related concerns on time will result in satisfied clients and customers. I'll show you some of the best WordPress plugins for setting up and running a help desk in this post.
Why do you need good customer service plugins for WordPress?
A professional customer service plugin can assist you in responding to your client's questions and technical issues in a prompt, dependable, and professional manner.
It will assist you in organizing customer complaints and questions in the order in which they are received, assigning them a ticket, and finally directing them to the appropriate department for assistance.
It will also allow you to search up client inquiries using a ticket number, allowing you to keep customers updated on the status of their inquiries. Your customers will be delighted with a well-run help desk, which will lead to repeat business.
10 Best Customer Service Plugins For Wordpress
All of the customer service plugins listed here are reasonably priced and simple to set up and utilize. With any of the below plugins, you should be able to set up your support system in less than 5 minutes.
1. WSDesk - ELEX WordPress Helpdesk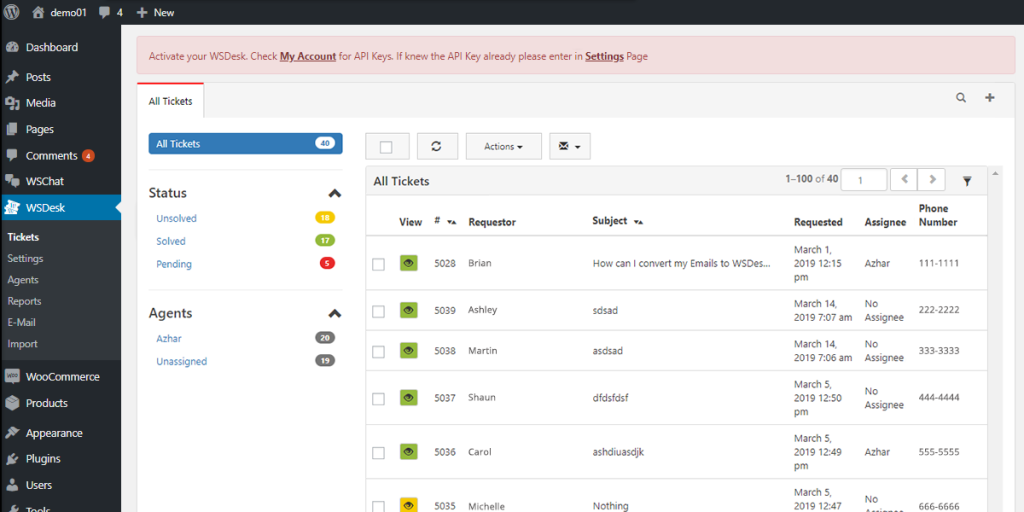 You can quickly integrate a whole custom support system into WordPress with WSDesk. To get started, simply install and run the setup wizard. Since you're in command of your support platform, you don't have to pay anything extra to add all of your agents. The same may be said about tickets. There is no limit to the number of submissions your clients can make with WSDesk. To keep your tickets structured, you can assign agents, statuses (unsolved, pending, solved), and tags. WSDesk also saves all of your data on your site, unlike some other choices, so you have complete control over your customer and support data.
Built-in features in WSDesk make it easier to provide help. Configure email notifications, automatic ticket closure after inactivity, department assignment, and other features. For your agents, include scripted responses. Use the agent ratings and ticket reports to keep an eye on your team. To automatically create tickets from unread emails, you can utilize IMAP or Google OAuth. That's incredible.
Integrations with WooCommerce, EDD, Contact Form 7, Gravity Forms, and WPML are among the plugin's other features. Additionally, there are simple xml backups, a paid SMS notification add-on, and a plethora of customization options.
2. TotalDesk - WordPress Help-Desk Plugin

Perhaps you'd prefer to reduce the number of hours you spend providing customer service. Perhaps you'd prefer to assist your visitors in a more passive manner. You'd like to reduce the number of customer service emails and one-on-one phone calls.
This bad boy takes the cake out of all the WordPress helpdesk plugins we've reviewed so far because it allows you to construct not only a knowledge base, but also a self-service customer helpdesk, a ticket system, and even live chat.
Welaunch, an elite author, has created TotalDesk, which includes amazing features like drag-and-drop post reordering, live search, FAQs, multiple notification options (email, desktop, Slack, and more), ticket reports, custom widgets, responsive design, WooCommerce integration, multi-lingual support, and more.
3. KB Support: WordPress Help-Desk Plugin Free

For offering support and help-desk services to your customers, KB Support is the finest free WordPress helpdesk ticket plugin.
You may design and fully configure as many ticket submission forms as you need with this great tool. What's even better? You can use the ticket management system via email using the Email Support extension. Without creating an account on your website, your consumers can send a ticket with an issue and handle it. The same can be said for the agents in charge of keeping your customers happy and stress-free.
It's packed with features, so you can rest assured that KB Support will provide the ideal help-desk solution for your employees to support your clients immediately away after activation.
Customers can use the built-in knowledge base to find solutions to their problems within the ticket submission process, minimizing the number of support requests sent to your help desk.
There is a slew of other nice extensions to choose from. Consider Zapier, a platform that allows you to automate workflows by linking your favorite apps, such as Slack or Mailchimp.
4. LiveAgent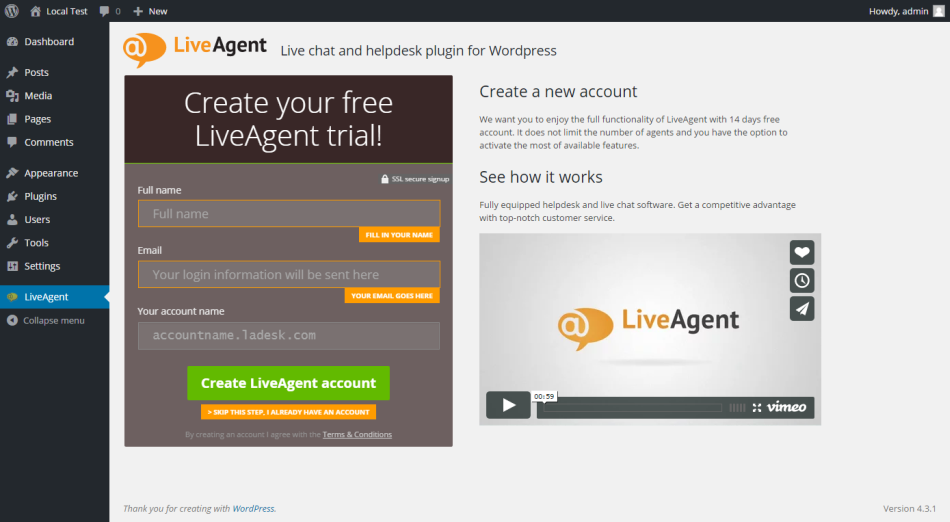 Since 2004, LiveAgent has supplied ticketing and live chat services to thousands of organizations. The firm emphasizes its live chat service, with features such as real-time typing view, website monitoring for conversation participation, and proactive chat invitations based on active agent availability, as the name suggests. For a consumer, chat can load in as low as 2.5 seconds.
The universal inbox in LiveAgent collects tickets from a variety of sources and arranges them in one place. This covers comments on WordPress articles as well as forum posts from your organization. A virtual call center, a customer knowledge site, and a multitude of reporting capabilities are all included with the LiveAgent plugin. For an extra charge, you can add multiple knowledge bases.
LiveAgent features:
Customizable chat plugin
Social media integrations
Use website analytics for chat engagement
Organized desktop
Cloud-based solution
View and export reports
Omnichannel ticketing
Time tracking
40+ integrations
Multi-brand support
5. Help Scout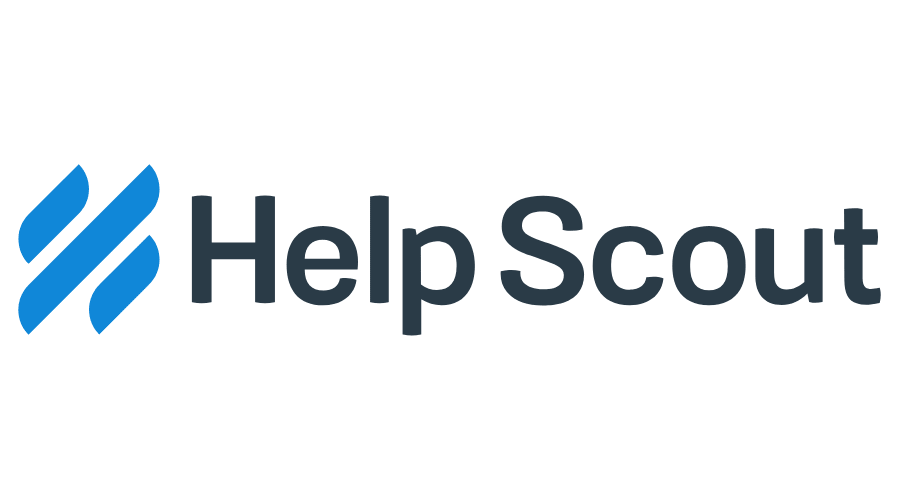 Since 2011, Help Scout has been around. The platform has almost 12,000 customers, including 500 active WordPress plugin users. Email ticket management, live chat, and phone ticketing are all part of the platform. The Help Scout plugin includes a shared mailbox, knowledge base, reporting, customer administration, and a robust set of integrations.
Private notes, automation, and preset responses are all included in Help Scout's ticketing service. Real-time collision detection can prevent two persons from responding to the same request at the same time. Browser, email, and smartphone notifications are also available through Help Scout.
Help Scout features:
Email, chat, and phone channels
Advanced search
Mobile apps
Keyboard shortcuts
Developer tools
Private notes
Integrations
Saved replies
Collision detection
6. Zendesk for WordPress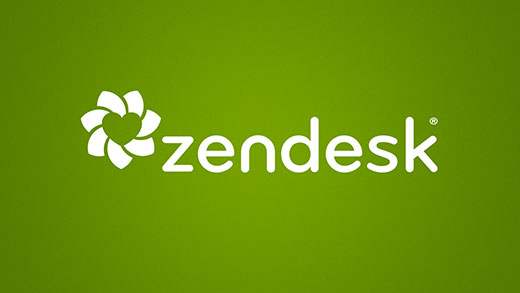 Another popular customer assistance and ticketing system for companies is Zendesk. It works nicely with WordPress-based sites and supports teams, various products, and documentation.
Zendesk for WordPress allows you to integrate Zendesk's customer assistance solution smoothly into your WordPress site.
It lets users who are already logged in to your WordPress site to use the helpdesk without having to transfer accounts. In your WordPress dashboard, you can see all of your tickets. You may even create support tickets from comments.
You can also add a Zendesk Dropbox tab to any page on your WordPress site with the plugin.
7. SupportCandy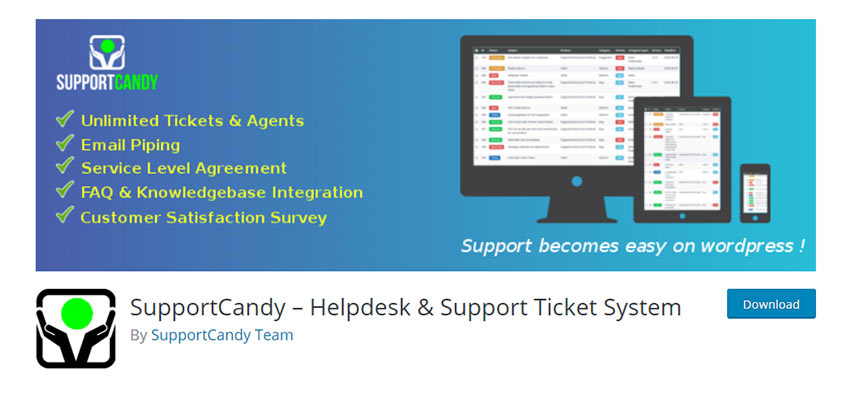 SupportCandy will add a ticketing system to both the front and back ends of your website with only a few clicks. You may create an unlimited number of support agent users and assign them tickets, and you can automate the process with premium add-ons.
Customers can submit tickets as guests or as members of their accounts. Custom fields, file attachments, and email notifications are also supported by the plugin.
This plugin is making waves in the WordPress helpdesk plugins sector, with over 10,000 active installs at the time of writing and a slew of capabilities that will make your head spin. SupportCandy is a ticketing system with a twist, written by Pradeep Makone, a WordPress.org active contributor.
Your visitors can submit tickets easily and swiftly from any device thanks to the underlying Ajax technology and a dynamic grid. You can submit an infinite number of support tickets from the admin or frontend using this plugin. Furthermore, customers do not need to register on your site to submit a ticket, which streamlines the procedure. What about spam bots wreaking havoc on your forms? Don't worry, this plugin includes a reliable anti-spam mechanism.
8. Tawk.To Live Chat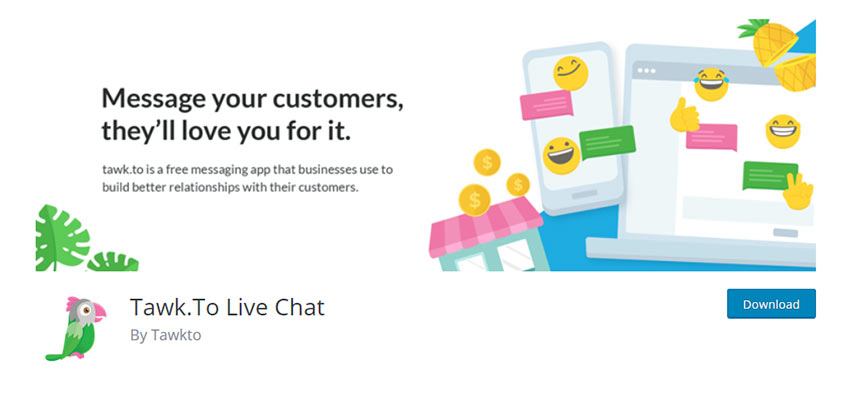 This plugin allows you to use a widget from the Tawk app for free. Installing a chat application on your WordPress site, a free account is required. With the provided shortcode, you can adjust the widget's appearance, which sites it appears on, and embed it anywhere.
There's also a helpful scheduler, which will only show the widget during your business hours. You can also use the service's mobile app to answer questions from anywhere.
9. Support Ticket Management System-Manage Your Tickets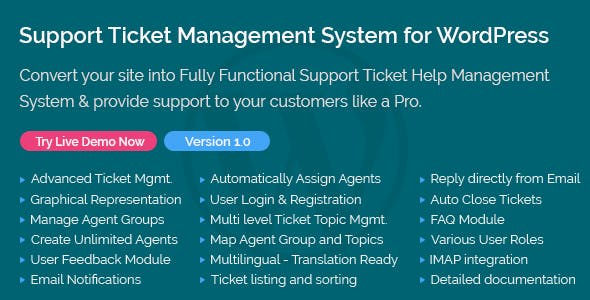 The Support Ticket Management System plugin comes next. This plugin will allow you to turn your website into a ticketing system. During various points of engagement, this plugin can send multiple email messages to both the site admin and the ticket creator.
It's a translation-ready plugin, which is wonderful since it means you'll be able to translate the content of this plugin, allowing more people to use it on your site. Support Ticket Management System is also multisite compatible, meaning it may be used on any of your multisite network's sites. This plugin features a graphical representation, which means you'll be able to see all of your reports and data graphically and simply analyze your services.
10. Awesome Support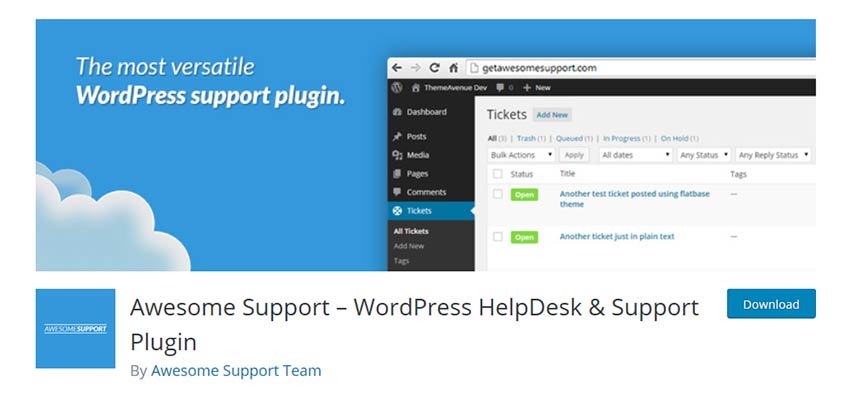 Awesome Support is a full-featured support ticketing system that you should check out if you need one. Use it to create a WordPress-based helpdesk that contains almost all of the features you'll need between the free version and premium add-ons.
You'll be able to build an unlimited number of departments, agent accounts, custom priority levels, and other features by default. Add-ons allow you to do things like sync product lists with WooCommerce or Easy Digital Downloads, send user responses through email, and receive Slack notifications, among other things. There is plenty of room to create a system that matches your requirements.
The bottom line
So, now that you've seen some excellent support system WordPress plugins, have you found one that meets your requirements? There's no need to rush into anything; instead, take your time to consider what you want to do with one of these plugins and which one provides the characteristics you require.