10 Best Free WordPress Hosting Providers For 2022
One of the first challenges in developing a WordPress site is finding the correct hosting company. You want your site to be as simple as possible to set up, and you want it to run effectively, but who needs another bill?
Without committing any money, you can get started right away with a free WordPress hosting package. If you want to start your website with a free hosting plan, we've gathered a list of the best free WordPress hosting providers to help you get started.
Best Free Wordpress Hosting Providers
MySQL databases, restricted database storage, limited disk space, the newest version of cPanel, and limited bandwidth are all included in most WordPress hosting plans. With the free plan, some services offer unmetered bandwidth and assistance.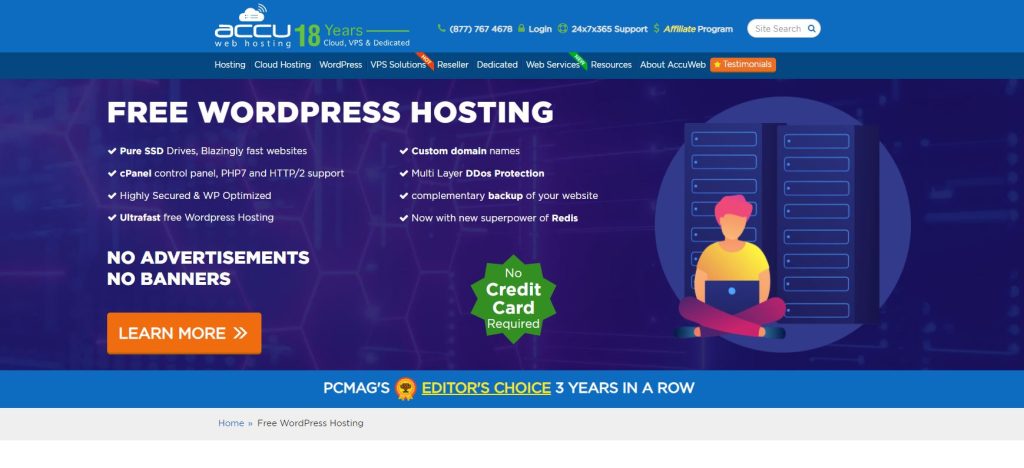 AccuWeb's servers are built with pure SSDs, which means lightning-quick load times, a wonderful user experience, and increased SEO performance. You get 2 gigabytes of storage space, 30 gigabytes of bandwidth, and 25 email accounts. There's also the extra security benefit of multi-layer DDoS protection and a free backup.
Features
AccuWeb Hosting offers multi-tiered DDoS protection.
Custom domain names are an option.
Pure SSD drives will provide you with lightning-fast web pages.
The free plan includes 25 email addresses and 10 MySQL databases.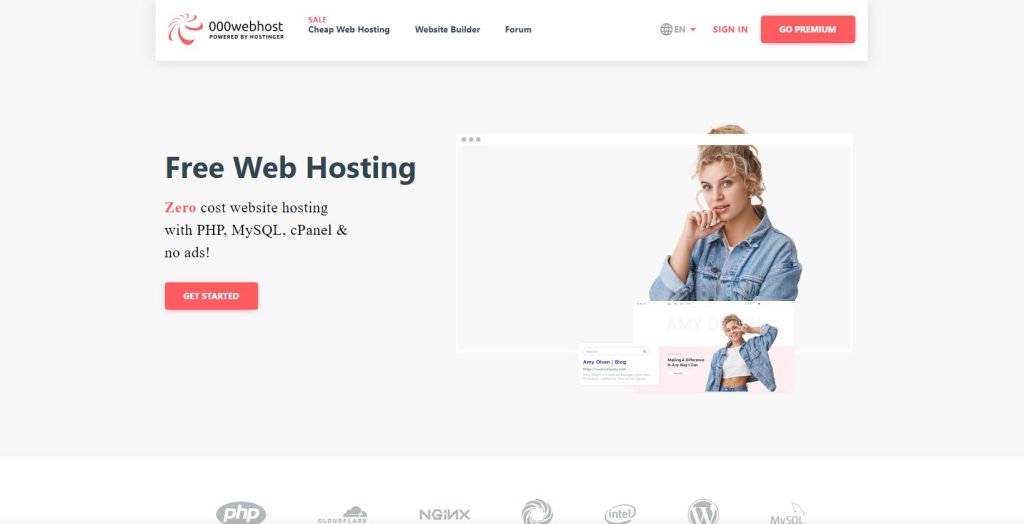 000webhost provides ad-free hosting with 300MB of disk space and 3GB of bandwidth. You also get Cloudflare protection at no extra charge. If you require more functionality, their next tier is reasonably priced and provides a free domain as well as 24/7 assistance.
Features
It includes a website builder as well as a WordPress auto installer.
MySQL databases are supported.
There is a Web File Manager available.
You will be given the most recent version of cPanel.
It will optimize WordPress's speed.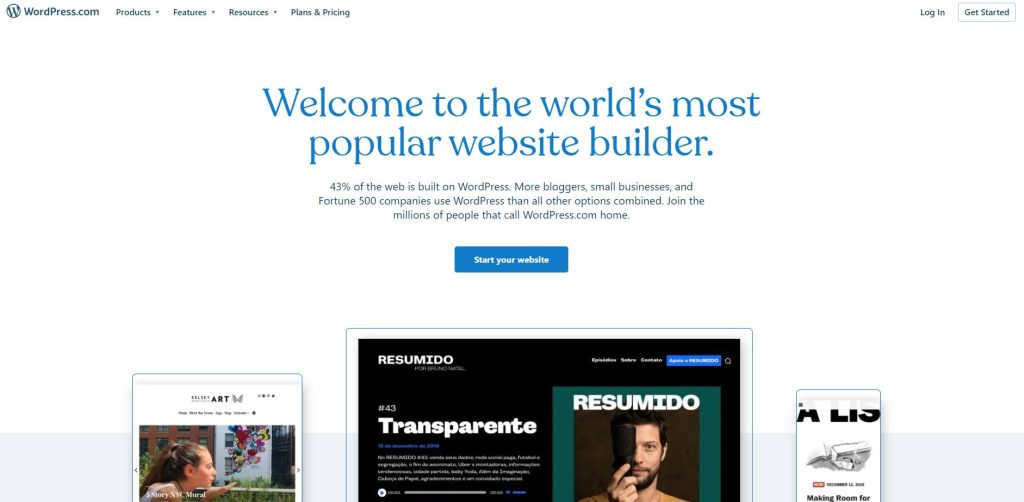 You can make a website for free using WordPress.com. It includes a variety of free mobile-friendly and customizable designs and themes. Each WordPress.com account comes with 3GB of disk space and unlimited bandwidth. If you run out of space, you may easily upgrade to a paid version, which starts at $48 per year for 6GB. It will let you connect your email, whether it's GSuite or another service. You don't have to bother about upgrades or backups with WordPress.com. WordPress will handle all of the technical details for you.
Features
Beginner-friendly assistance
Unlimited bandwidth
Storage space of 3 GB
SSL certificates are available for free.
Free plugins and themes are available.
It's simple to upgrade to the Premium level.
Easy to Use Site Builder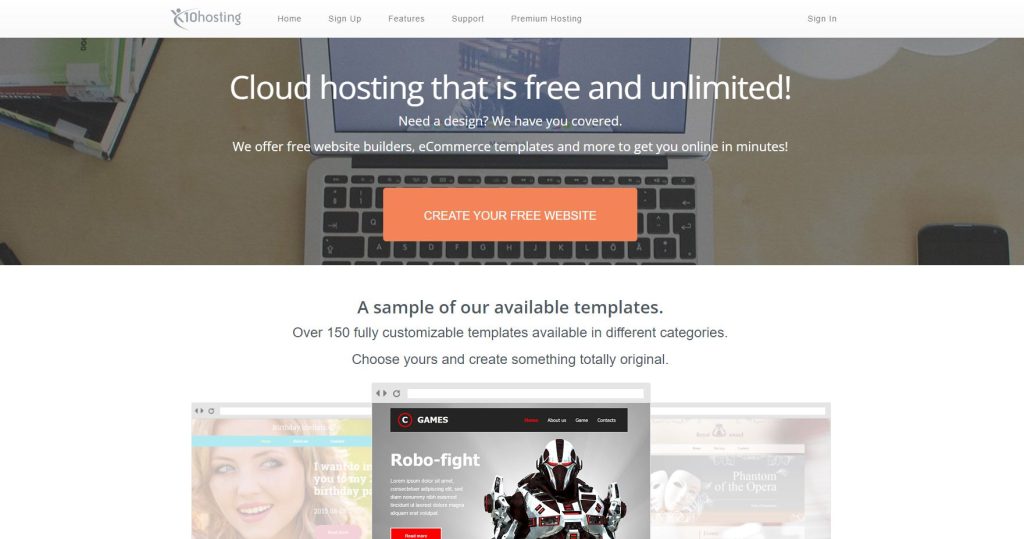 As the name implies, 10X Hosting is a fantastic free cloud hosting solution for WordPress that offers ten times the features of most other services. It's a full-featured web hosting service that allows you to set up your websites in minutes. This is an outstanding full hosting package that takes care of all your hosting needs, with 100% pure cloud SSD servers powered by only top-of-the-line enterprise hardware.
Features
SSD cloud servers that are 100% pure cloud.
PHP scripts are completely under your control.
Website builder with a simple interface.
High performance with features that have been fine-tuned.
Flexible web hosting.
For easier access, one-click program installation is available.
Upgrades are simple and updates are provided on a daily basis.
Web hosting tools that are simple to use.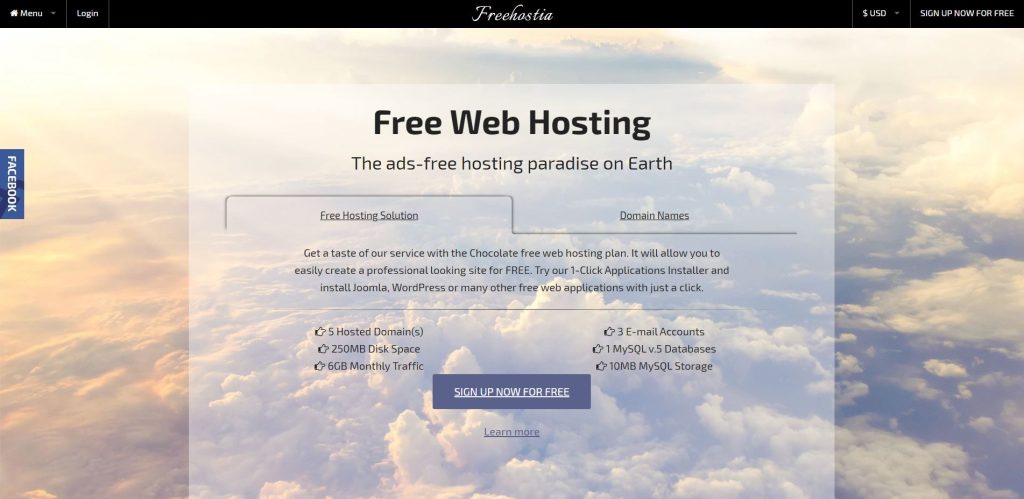 Another free hosting option is Freehostia, which provides an ad-free WordPress hosting service. You can avoid manually installing WordPress by using the free one-click script installer. 5 domains, 250MB of storage space, 6GB of bandwidth, and 3 email accounts are included in the free plan. You also get MySQL storage and support 24 hours a day, 7 days a week.
Features
You have the option of using a shared or cloud hosting platform.
For quick access, a one-click installer is available.
Tools for site management are included.
Statistics to evaluate progress.
There is a high level of security.
It's simple to upgrade to the premium versions.
24/7 helpful customer support.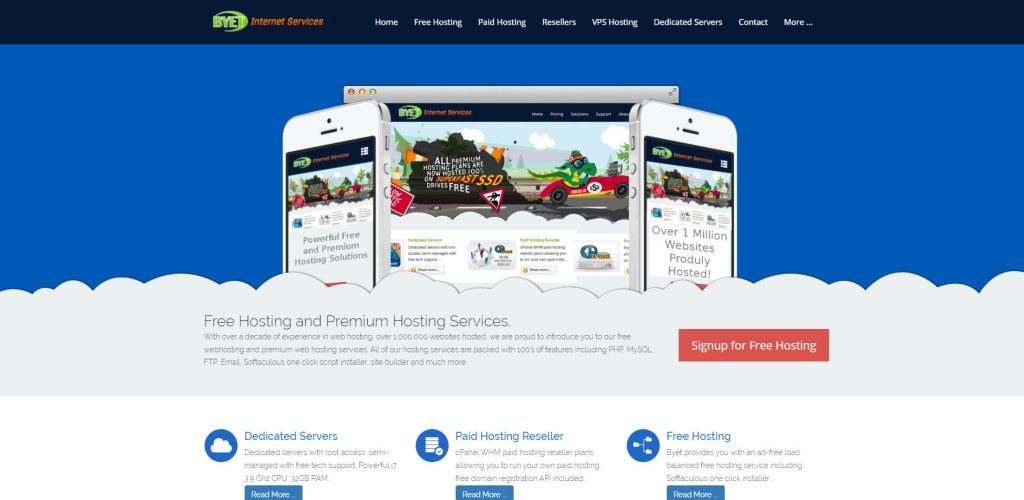 Byethost is a free hosting network that runs its own clustered hosting network, giving a strong and load-balanced platform to its users. This free WordPress hosting is another name we don't hesitate to recommend because of its great level of reliability and speed. In addition to the already impressive capabilities, this hosting package includes ample storage and superb sub-domain choices.
This hosting provider is definitely the best choice if you're seeking fantastic free hosting for your WordPress site. It's completely free and has no advertisements. By signing up for free, you can look forward to an amazing experience and improved site hosting right immediately!
Features
High reliability and speed.
Access to the community is free.
Access to the control panel is unrestricted.
FTP account as well as a File manager.
Addon domain, Parked Domain as well as Subdomains.
There are no advertisements.
All free hosting domains come with HTTPS SSL.
Customer service that is both friendly and helpful.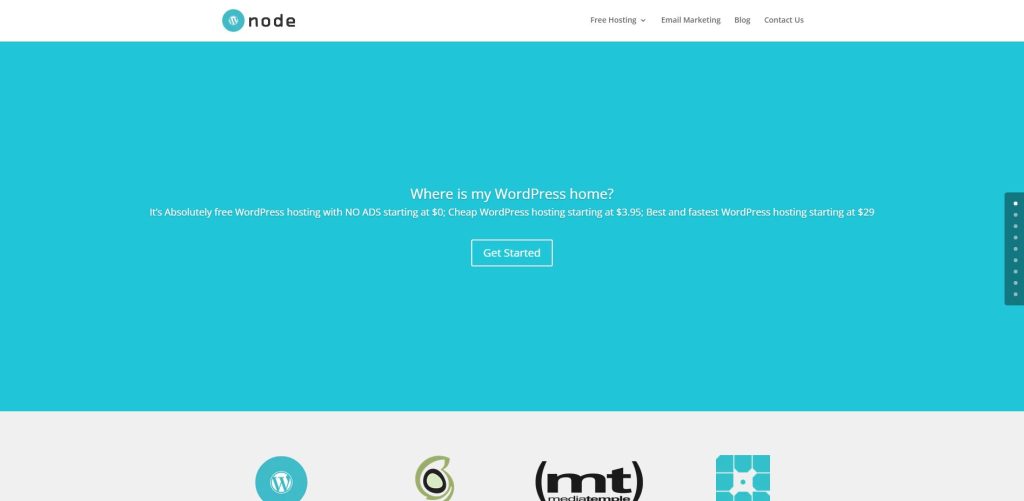 WPNode is another amazing free hosting provider that we recommend to our consumers since it is lightning fast and has powerful security settings. There are no advertisements, no contracts, and the best thing is that there are no stringent restrictions to comply with. There are no regrets if you choose this service because it offers unlimited WordPress site hosting and high SSD storage space. Not only that, but the hosting package also includes a pre-configured W3 Total Cache plugin to make things even easier!
Enjoy the best of services with the upload and download possibilities through SFTP and complete control over your database through phpMyAdmin. Another excellent incentive to go with WPNode is that you will have unlimited data transmission.
Features
Unlimited WordPress sites.
Hosting platform that is ad-free and spam-free.
Complete command over the PHP database.
Transfer of data is unrestricted.
RoundCube is a free email-based storage service with a storage capacity of 1 GB.
Uploading files over SFTP is simple.
High levels of security.
The speed is incredible.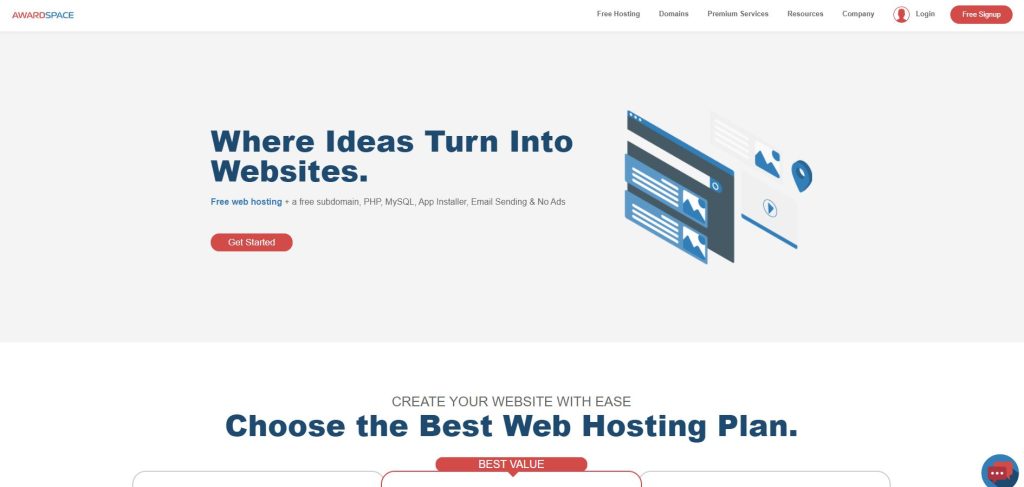 Another excellent place to start your online adventure is with this free WordPress hosting. Why? Simply put, AwardSpace is a 100% ad-free and user-friendly platform that allows you to have the best online experience possible. Create your website by hosting a single domain with three sub-domains.
It is also pretty simple to install and set up within 5 minutes using the one-click installer. You still don't believe us? Why don't you give it a shot? What more could you want for with 1 GB of storage space and 5 GB of monthly traffic? Another great feature of this hosting company is that they offer 99.9% network uptime, making it one of the most dependable and speed-optimized providers available.
Features
A large amount of disk space and bandwidth are available.
Guaranteed network uptime of 99.9%.
An online environment that is free of spam and viruses.
One-click installation of a free website builder.
100% ad-free environment.
Uploading files is made easier using our web-based file organizer.
24/7 customer support.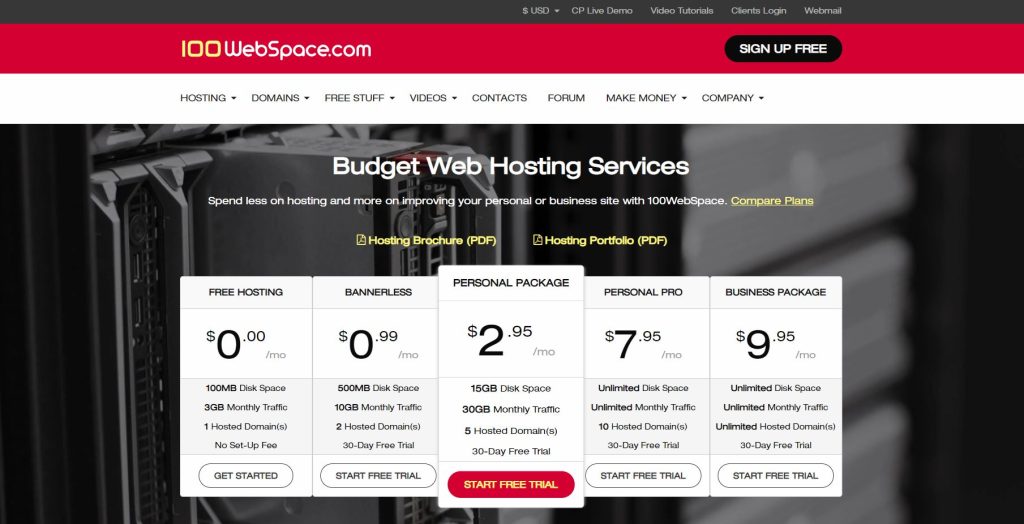 100WebSpace is the way to go if you want to get started online without any hassle or danger. This free WordPress hosting provides a special bonus—Web Apps Installer—in addition to the standard set of capabilities. This will assist you in starting a blog. All of this may be done in a matter of minutes. This service is ideal for any website, and we highly recommend it for those who are just getting started!
This hosting is fantastic because it comes with a multilingual control panel that ensures you understand everything about it. Furthermore, the customer service is as helpful and efficient as ever! Not only do you get live assistance 24 hours a day, seven days a week, but you also get a one-hour ticket or email response.
Features
One-click installer.
Control Panel with multiple languages.
Excellent customer service available 24/7.
Three e-mail accounts can be added.
Guaranteed uptime of 99.9%.
Site management solutions that are really useful.
Extensive Online Documentation.
Excellent video tutorials.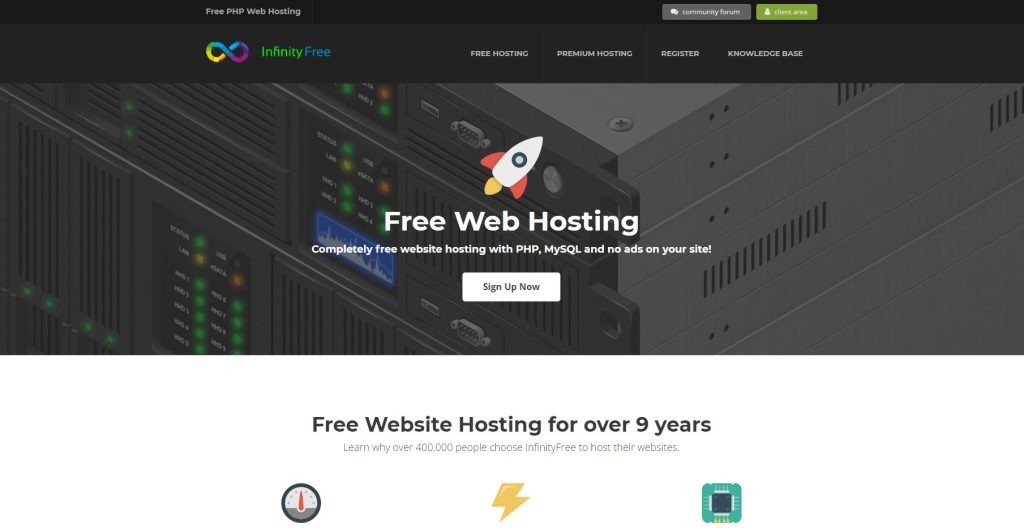 The last one in our list of free WordPress hosting is Infinity Free which claims to be the world's fastest free hosting service, which makes it a great offer when you consider its unlimited storage and bandwidth. There is no advertising and you may use your own domain or choose from more than 25 extensions for a free one.
They can also guarantee a 99.9% uptime, but you will not receive any assistance if your site goes down for any reason. The nice part about InfinityFree is that they offer free features like DNS, Cloudflare CDN, and SSL to all websites!!