6 Best Host For WordPress Sites To Use in 2022
Web hosting is one of the most important aspects of any successful website, but it is sometimes underestimated. Choosing the best WordPress hosting for your requirements can help you enhance your SEO and boost your sales. WordPress hosting comes in many different flavors, including free, shared, VPS, Dedicated, and Managed WordPress hosting. We'll walk you through the process of selecting the best WordPress hosting for your website in this guide.
This comparison of the best WordPress hosting services is based on raw performance data, real-world speed tests, user feedback from the largest WordPress hosting survey to date, and our own experience running websites on a regular basis.
Best Host For WordPress Sites
Here's a comprehensive, in-depth look at the WordPress hosting market. The top 6 best WordPress hosting services in 2022 are listed below.
#1 Hostinger - The Best for Cheap WordPress Hosting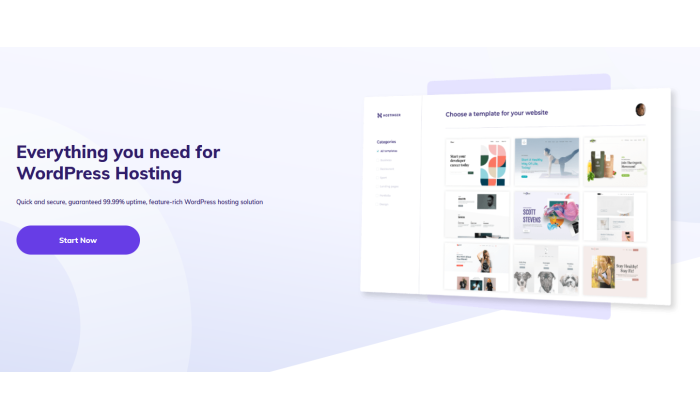 PROS
Helpful customer service
Good, low-cost plans
Optional Minecraft servers
Terrific uptime in testing
Includes the company's own Zyro website builder
CONS
Lacks dedicated hosting
Not every plan has a Windows option
Base shared hosting plan offers just one email account
Lacks phone support
To receive the greatest pricing, you'll need to sign a four-year contract. So, while there is some commitment, the overall cost of four years at those low rates is still far less than a single year with other options.
You can also save money by using the free email account, domain name, CDN, and a free SSL certificate that's simple to set up. With very little effort on your part, your site will become faster and more secure.
The entry-level plan from Hostinger isn't designed for developers or anyone who need to put a lot of load on their website. 30 GB of storage, two databases, and weekly backups are included.
You get a 99.9% uptime guarantee, and site speed is excellent for up to 10,000 monthly visits. If you're just getting started, this should be plenty to keep you calm.
And the Hostinger has done an excellent job of optimizing the WordPress experience. The LightSpeed cache speeds up your site and is compatible with the majority of popular plugins.
It's not only about speed; Hostinger also includes a set of tools to assist you to make your site appear professional.
A one-click WordPress installation, a site setup wizard, and a wealth of tutorials are all included. You'll be able to improve your site for free by using free WordPress plugins and themes.
All of Hostinger's WordPress hosting plans come with extremely low initial pricing: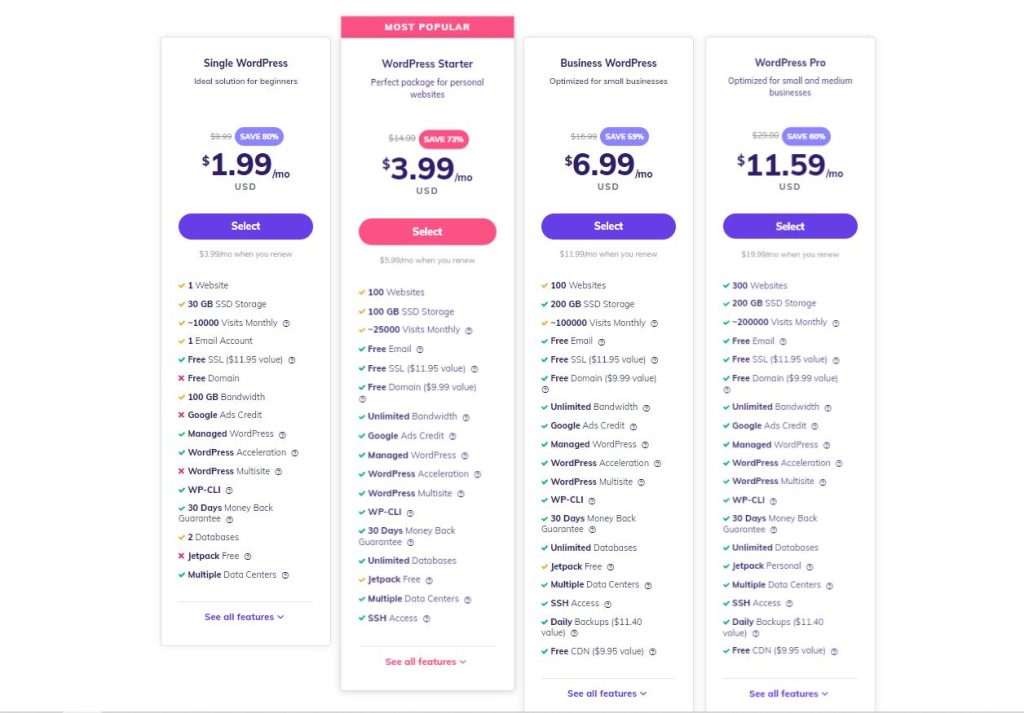 #2 Bluehost - The Best for New WordPress Sites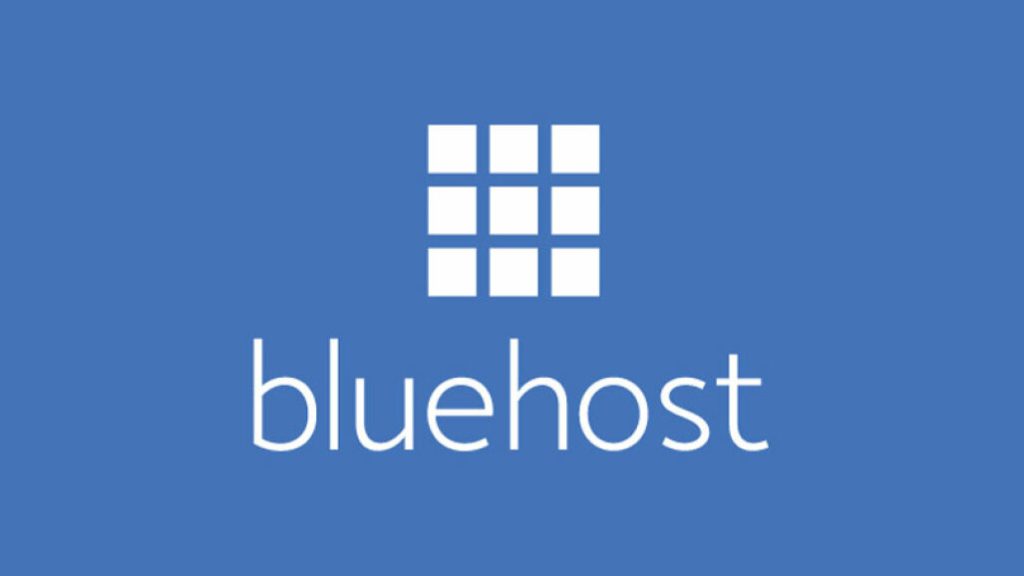 PROS
Excellent WordPress hosting plans
Dependable uptime in testing
$200 in free marketing credits (Google Ads and Microsoft Advertising)
Free site migration
Useful WordPress site-building software
Terrific customer service
Easy-to-use interface
50 GB storage
Unlimited traffic
CONS
Lacks cloud hosting
Lack Windows-based servers
No monthly shared hosting plans
Bluehost is an industry leader in the web hosting arena, notably for WordPress blogs, with over 2 million sites powered globally. In fact, it's one of the few web hosting that WordPress has officially recommended.
Bluehost is an excellent choice for anyone starting a new website from the ground up. You get a free domain name for a year when you join up for hosting, and WordPress is a one-click install.
A domain name normally costs $10-15, but you'll save time in addition to money. You can get everything done in one step rather than having to register a domain and download WordPress separately.
Although there are no arbitrary traffic limits, if your site begins to negatively affect other sites on the server, you may be asked to upgrade to a higher tier plan.
You can create as many sites as you like with the Plus and Choice Plus plans, but you can only have one with the Basic plan. With the higher tier plans, you'll get limitless storage (within reasonable bounds, of course) and more server resources.
Alternatively, you can choose Bluehost's specialist WooCommerce hosting or one of its managed WordPress hosting plans.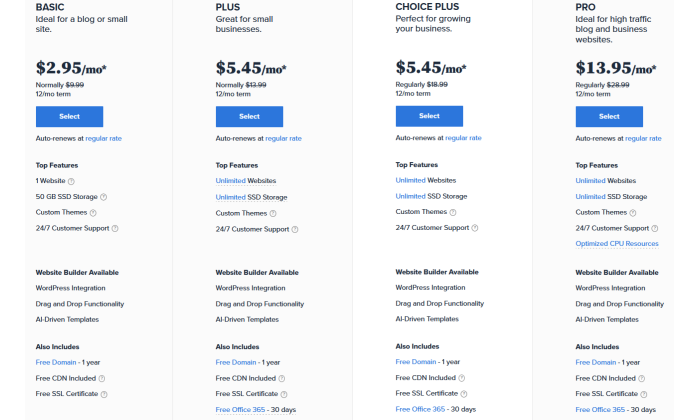 #3 WP Engine – Best for hosting multiple WordPress sites with tons of traffic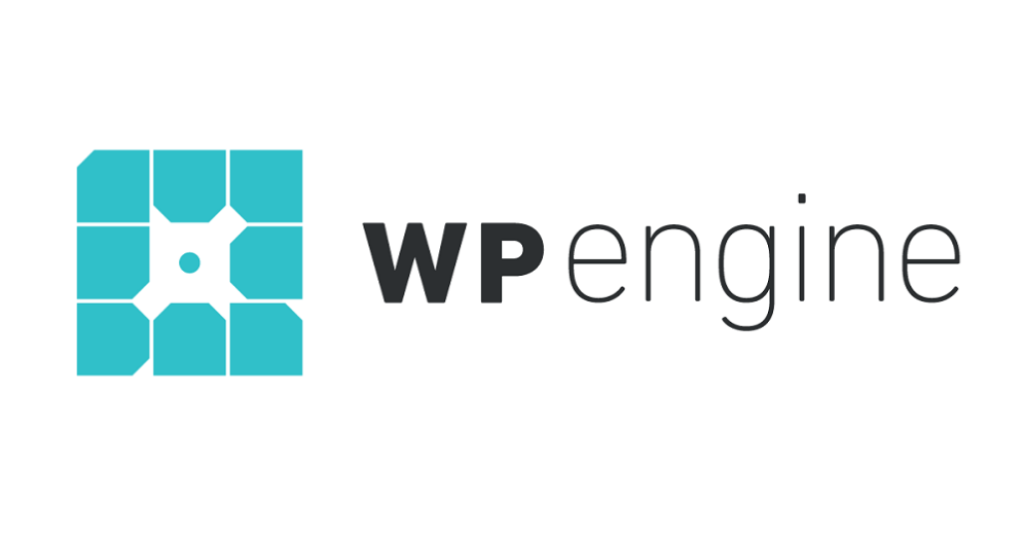 PROS
Terrific uptime in testing
Daily backups
Outstanding customer service
Useful staging area
Real-time threat detection
Cloud Platform cloud hosting
Choice of either Amazon Web Services or Google
Custom plans available
Free SSL Certificate
Free CDN
CONS
Email isn't included with hosting plans
Doesn't sell domains
WP Engine is a managed WordPress hosting environment that focuses on WordPress installations, themes, and plug-ins. In fact, unlike most another web hosting, you won't have to install WordPress; the content management system comes preinstalled. It was nice to read our welcome email, see our login credentials, and then get started without having to do anything else. WP Engine works just like any other self-hosted WordPress installation when it comes to creating content. Creating posts, pages, and galleries is a breeze.
With the Managed Hosting Plus and higher plans, WP Engine additionally automates numerous activities, such as daily site backups and plug-in updates. It also includes Evercache, a patented technology that combines caching and proxy servers to speed up page loading.
However, because it is substantially more expensive, I do not recommend it for somebody who is just beginning off. Monthly costs range from $30 to more than $100, compared to $4 to $15 for other products in this list.
Bluehost or Hostinger are far better options for most WordPress blogs. You'll save a ton of money and won't have to pay for WP Engine's advanced capabilities that you don't require.
With their Startup plan, you can host one 10GB site with a monthly visitor limit of 25,000 for $23/month, paid annually. For three sites and 75,000 monthly visitors, their Professional tier is $56 per month. If your traffic spikes and you exceed these traffic limits, you'll be charged overage fees.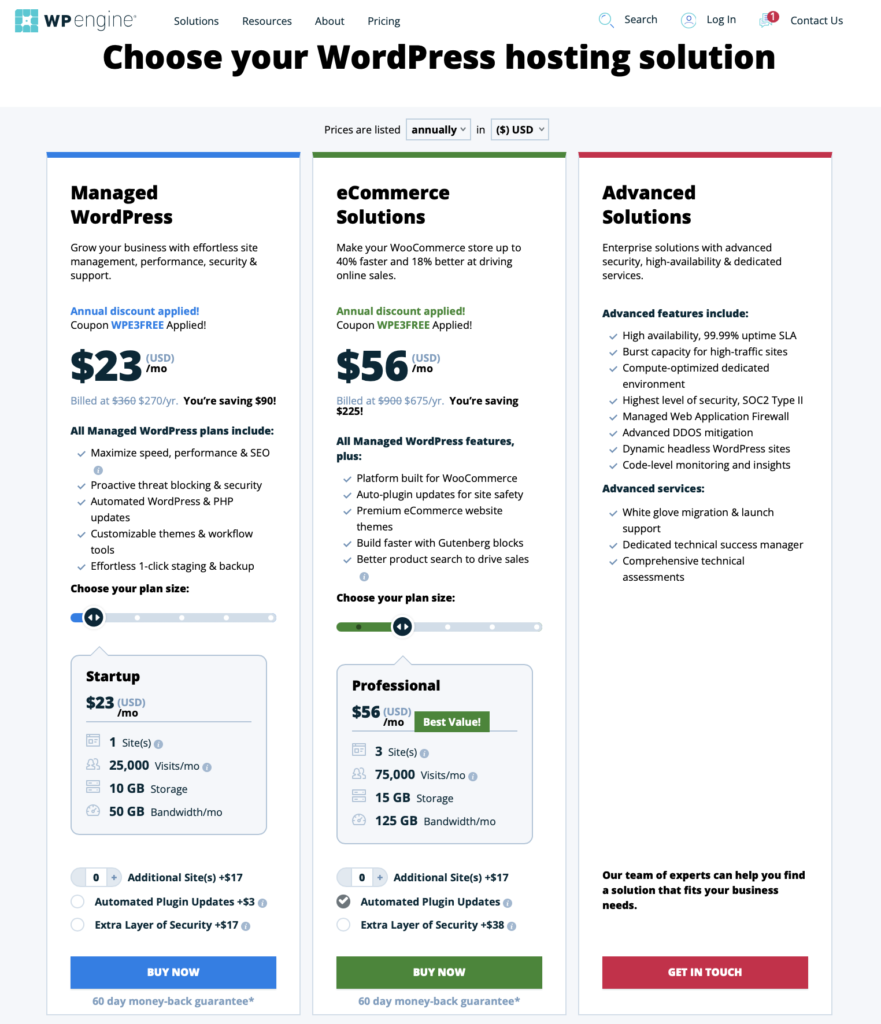 #4 SiteGround - The Best Support for Affordable WordPress Hosting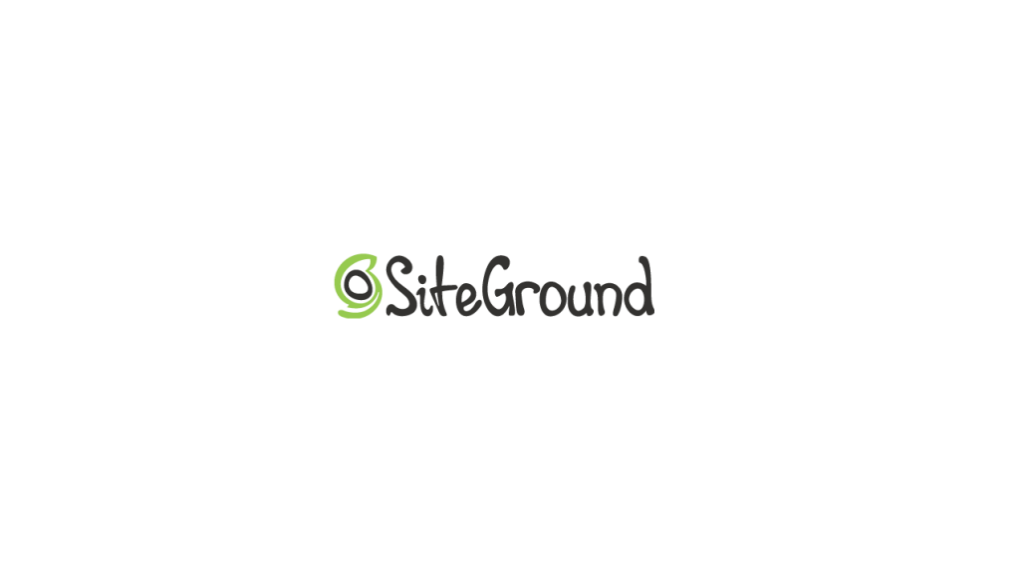 PROS
Good uptime in testing
Monthly and annual hosting plans
Free SSL certificate with all plans
Free website builder
Free WordPress migrations
Many useful free services included
Lets customers choose server locations
Excellent customer service
CONS
Relatively low storage
Lacks dedicated, VPS, and Windows server options
When choosing a web hosting service, there are numerous factors to consider. There are aspects that appeal to a broad client base (such as cost and storage), as well as features that are more business-oriented (such as security) (such as e-commerce and server location). All of these difficulties are addressed by SiteGround, and they do so well. It provides a good amount of hosting options, a variety of performance-enhancing features, and great customer support. SiteGround is a good web hosting provider for individuals and small businesses, despite the lack of VPS, dedicated, and Windows servers.
For a one-year commitment, SiteGround offers a reduced introductory cost on all plans, starting at $3.99 per month: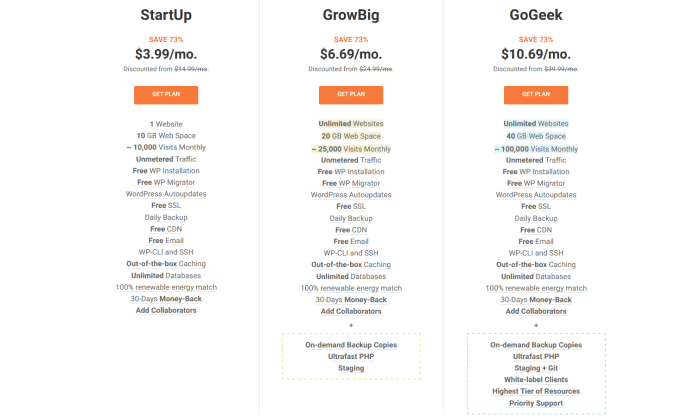 There aren't many WordPress hosting options with as many features and as much support as SiteGround's StartUp plan. It's also a bargain at just under $50 for the first year.
The same plan renews at $14.99 per month when the introductory rate expires. That's a big jump, but considering it's a fully-managed WordPress hosting package with a lot of nice features, it's still a good deal.
Other managed WordPress hosting plans can't compete with the GrowBig and GoGeek options. A staging space, on-demand backups, enhanced caching, and additional resources to power your sites are all included.
#5 Cloudways - The Best for Total Customization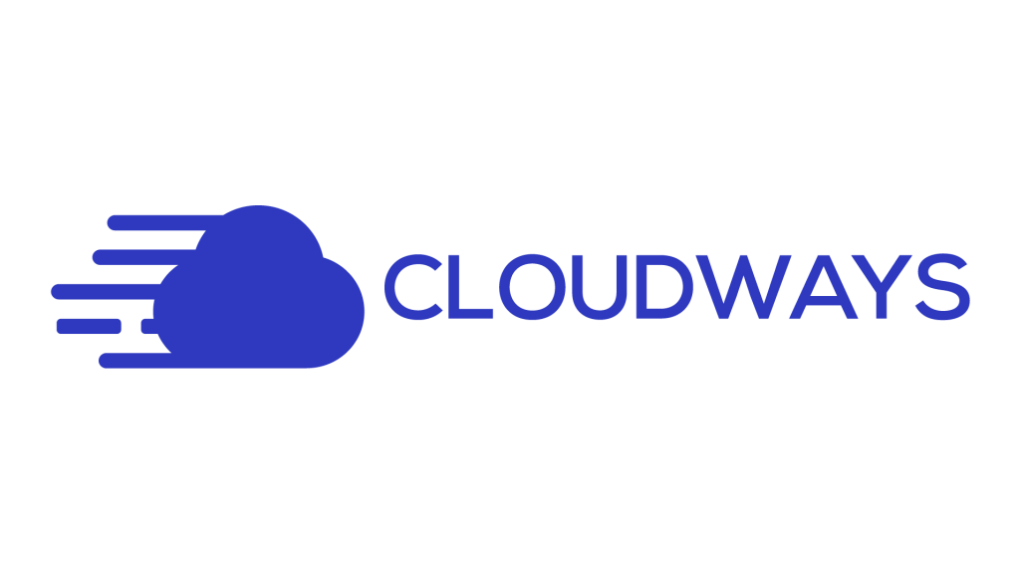 PROS
Very easy to set up
Excellent uptime
Pay-as-you-go plans.
Several flexible account tiers
Site cloning
Can try service for free before signing up
Supports numerous apps
CONS
Email costs extra.
No domain registration option.
Cloud-based web hosting services are already ubiquitous, but Cloudways' cloud hosting accomplishes a few unique things that set it apart in a crowded sector. It allows you to choose from five platforms, including Amazon Web Services and Google Cloud Platform and offers budget-friendly pay-as-you-go plans. You can even join up for a free trial without having to use your credit card. Its lack of features, such as domain registration and bundled email, takes away some of the lusters. Nonetheless, this outstanding cloud hosting service is certainly worth considering.
Unlike most other web hosting providers, Cloudways allows you to create a website for free. Create a username and password for a three-day trial account, or log in with Github, Google, or LinkdedIn credentials, which is a great touch. After logging in, you'll be prompted to choose a content management system (CMS) from a list of well-known and well-respected options, including Drupal, Joomla, Koken, Magento, Media Wiki, PHP Stack, Prestashop, and, of course, WordPress. Here, there's a lot of versatility on display.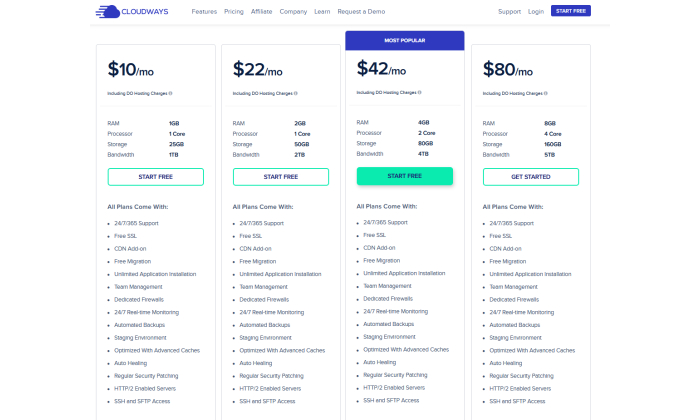 As you can see, you can get started with no commitment for for $10 each month. This provides you with more storage and bandwidth than many other basic WordPress hosting plans from other providers, as well as a fully managed hosting experience with extra-fine levels of control on your end.
Cloudways isn't for the faint of heart, but if you're comfortable with server-side maintenance and management, you may get a lot of value from this service.
#6 Dreamhost - The Lowest Day One Spend for WordPress Hosting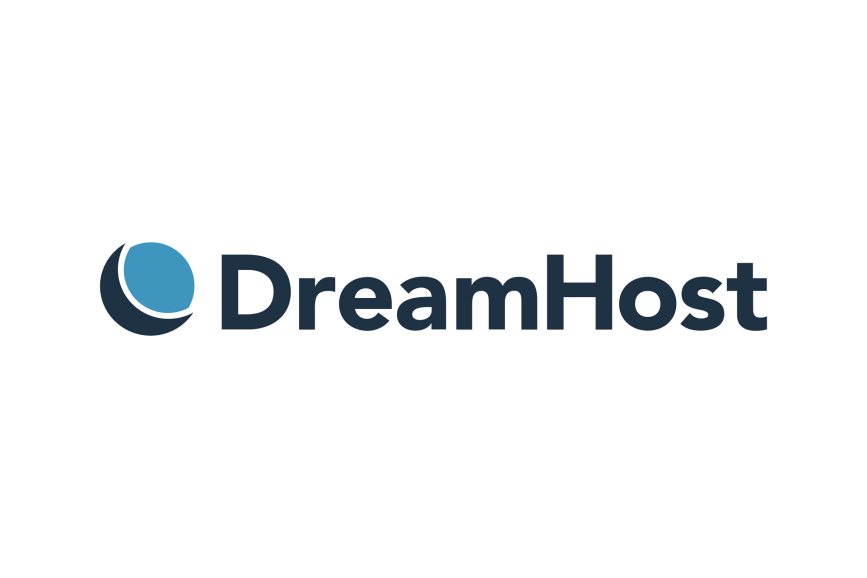 PROS
Strong security features
Excellent cloud hosting offerings
Extensive domain-management tools
Unlimited data transfers per month
Useful WordPress staging feature
Generous money-back guarantee
CONS
No email with
No telephone support
Lacks Windows-based servers
Shared Starter plan
DreamHost should be one of the first places you go if you want to develop a Linux-powered website. The web hosting service provides a robust feature set that meets a wide range of personal and business web hosting requirements by providing shared, WordPress, virtual private server (VPS), cloud, and dedicated plans. Furthermore, its website-building software provides webmasters with simple tools for creating attractive, versatile sites. As a result, DreamHost is an Editors' Choice award-winning web host, competing with HostGator, Hostwinds, and Liquid Web.
DreamHost, along with SiteGround and Bluehost, is one of the few hosting providers that WordPress has officially approved. DreamHost, unlike the other two providers, offers incredibly competitive month-to-month fees.
This is quite appealing to consumers who do not want to sign a long term in order to receive a decent deal. DreamHost does provide savings for lengthier contracts, but the WordPress Starter plan is still available at $4.99 per month. There will be no contract or long-term commitment.
Another reason DreamHost keeps your day one costs low is that it includes a free domain name for the first year. That's another $10 to $15 saved right there.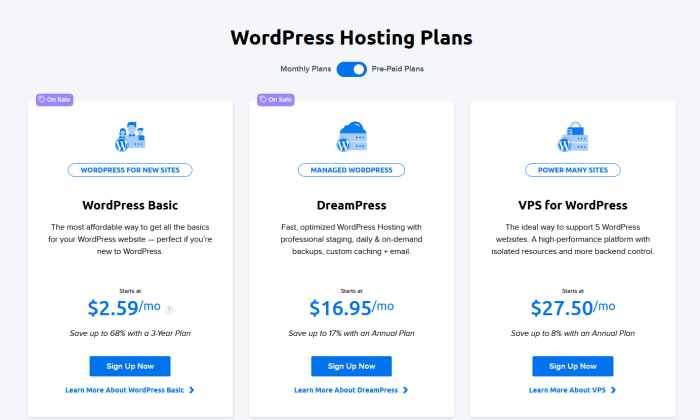 For those who are hesitant to lay down a few hundred dollars to sign up for a regular plan, the DreamPress managed hosting solution is a cost-effective no-contract choice.
Similarly, the VPS for WordPress plan is ideal for those who require more resources and control over their server than a shared plan provides.
The price is competitive across all DreamHost plans, so there's no reason to be concerned. The company guarantees 100 percent uptime. If your site goes down unexpectedly, DreamHost will genuinely compensate you for your troubles.
What to look for when choosing the Best Host For WordPress Sites
Before you can choose the best WordPress hosting package for your site, you must first know what to look for.
The advantage is that the servers for these hosting services are well configured for WordPress. Everything in the backend IT environment has been optimized for WordPress in ways that would not be possible if other types of software were used. This improves performance and reduces crashes.
Shared vs. Managed WordPress Hosting
Shared WordPress hosting is the most cost-effective solution. It provides all of the advantages of WordPress-specific hosting at a very affordable cost.
You'll still need to do maintenance and updates with shared WordPress hosting to keep your site functioning well.
The good news is that the user interface for managing your WordPress is specifically developed for this purpose. It'll be a lot easier than working with something designed for general hosting.
If you don't want to deal with your site's backend upkeep, a managed WordPress hosting package is for you.
Your hosting company will handle the IT labour required to make your site fast, safe, and simple to use.
Traffic Volume
What is the volume of traffic on your website? How much traffic do you anticipate for new sites?
The answer to this question will undoubtedly influence the type of WordPress hosting package that is best for you.
A site that receives 5,000 visits per month should be on a different plan than a site that has 50,000 visitors per month. Plans that can handle 100,000 visitors per month may not be appropriate for sites with millions of monthly visitors.
Some hosting companies provide you an estimate of how much traffic each of their plans can handle. SiteGround, for example, provides an approximation of the number of monthly visitors that each plan can manage.
Speed and Uptime
By choosing WordPress-specific hosting, you are already ensuring greater performance than you are likely to find elsewhere.
WordPress-specific caching tools are available from SiteGround, Dreamhost, and WP Engine. Caching generates a static version of your site and serves it to visitors, reducing the amount of work your server has to do in order to react to requests.
Normally, you'd need to install a caching plugin to accomplish this, however, most WordPress hosting have this functionality by default.
Another item to check for is a content delivery network (CDN), which comes included with several of the plans I've researched. A CDN distributes images, websites, and other assets across a global network of servers.
Support
WordPress sites, like anything else on the internet, have bad days. How quickly can you address a problem when anything goes wrong?
Getting quick and high-quality help is critical, especially for customers who aren't excited about navigating the WordPress backend to resolve issues.
One of the advantages of WordPress hosting is that customer support representatives are well-versed in plugins, themes, and other typical site concerns. There is no guarantee that the representative will be knowledgeable about WordPress when using non-specific hosting.
You'll notice that every choice on my list includes some form of 24/7 support.
The bottom line
If you're running a WordPress site, you should definitely look into a WordPress-optimized hosting plan.
Which strategy is the most effective? It all depends on what you're after. The suggestions provided above will undoubtedly be the finest spot to begin your search. To summarize, they are as follows:
Hostinger - The best for cheap WordPress hosting
Bluehost - The best WordPress hosting for new websites
WP Engine - The best for managed WordPress hosting
SiteGround - The best support for affordable WordPress hosting
Cloudways - The best WordPress hosting for total customization
DreamHost - The lowest day one spend for WordPress hosting