The 4 Best Accounting Software Online For Your Company
Accounting software keeps track of an organization's financial transactions. Online accounting solutions are specifically designed to be accessed via the Internet rather than being installed locally on company PCs. This decreases information technology requirements such as server hardware, backups, and maintenance, and changes the spending from a high up-front capital expense to a much smaller, but recurring, monthly, or annual price.
Accounting software can also save time by utilizing features like automation, and it provides the owner with a location to store crucial documents and receipts for easy access at any time. If accounting isn't your strong suit, or even if it is and you want to save time, keep reading to find out which accounting software is best for your company.
To find the finest accounting software, we looked into more than 20 tools and applications before narrowing it down to the top 6. We chose these based on the features and functions that are specifically meant for small business owners, as well as the convenience of use, affordability, and other factors. Here are our top recommendations.
The 6 Best Accounting Software Online For Your Company
Here are our top picks, as well as information about these apps.
#1 FreshBooks - The bost overall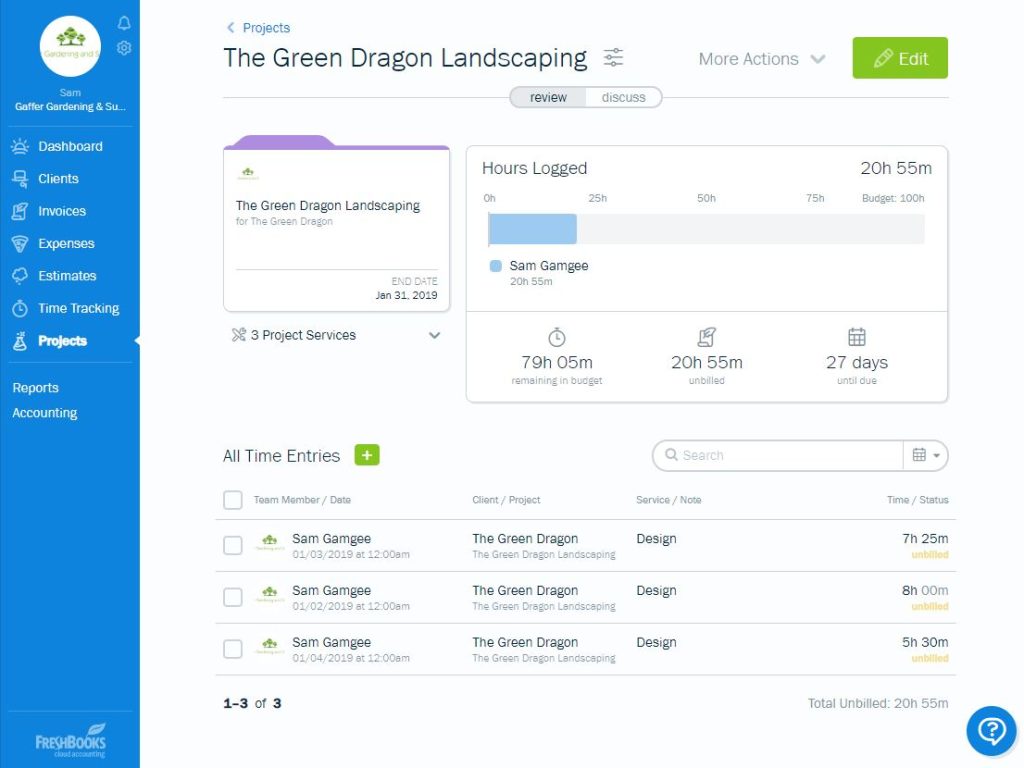 FreshBooks is a Canadian startup that was formed in 2003 in Toronto. It makes use of cloud-based accounting and invoice software, which is accessible via iPhone, Android, and iPad apps.
It is our pick for the best overall accounting software because it is simple to use for business owners with little or no accounting knowledge, has powerful features and functions, is reasonably priced, and can be used on the move.
FreshBooks has the following features:
Reminders for payments
Recurring invoices with flexible parameters such as due dates and discounts
Online credit card payments
Billing in several currencies and languages
Sales tax calculations are done automatically.
Expense categories that are tax-friendly
Time tracking with a Chrome browser extension
Remembered vendors
Bank deposits, recurring payments, and auto bills are all possible with bank integration.
Integrations of tax assistance with tax applications, estimates, deductions, and filing tools
Integrates easily with other programs such as GSuite and Gusto.
#2 Intuit QuickBooks - The best for ease of use and effectiveness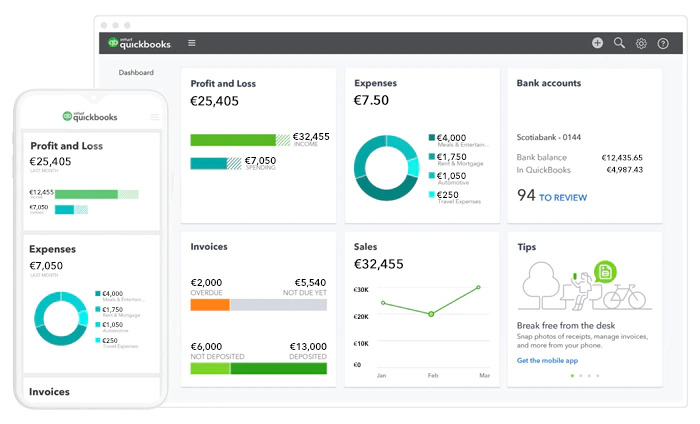 You may use this accounting software to make professional invoices, take payments, track expenses, and keep a close eye on your cash flow. And that's just with the Basic plan. The more expensive plans allow you to send bulk bills, conduct deep analytics, and even work with a specialized accounting team. QuickBooks Online interfaces with a number of well-known business applications, including Bill.com, Salesforce, and HubSpot.
QuickBooks eliminates the need to construct financial reports from scratch by utilizing the software's built-in reports, which include the trial balance, general ledger, and 1099 transaction detail reports required for tax purposes. You can save your favorite reports so you can find them quickly at the top of the Reports page. You may also configure the software to run and email reports to you automatically, as well as schedule them for a specified time of day and regularity, such as daily, weekly, monthly, or quarterly. QuickBooks has some of the strongest reporting capabilities of any accounting software we tested.
QuickBooks includes the following features:
Integration with financial institutions, as well as PayPal, Square, Shopify, and other services
With user instructions and tax data exporting, they can assist you in filing quarterly and annual tax returns.
Calculations, returns, and recorded tax payments for sales taxes
Sort transactions and costs into tax categories automatically.
Track all of your costs in one location.
Scan receipts and attach them to invoices
Documents can be shared with your accountant or exported.
Create customizable reports that include cashflow tracking and are available on your dashboard.
Use your smartphone's GPS to track your mileage.
#3 Sage - The best for multiple users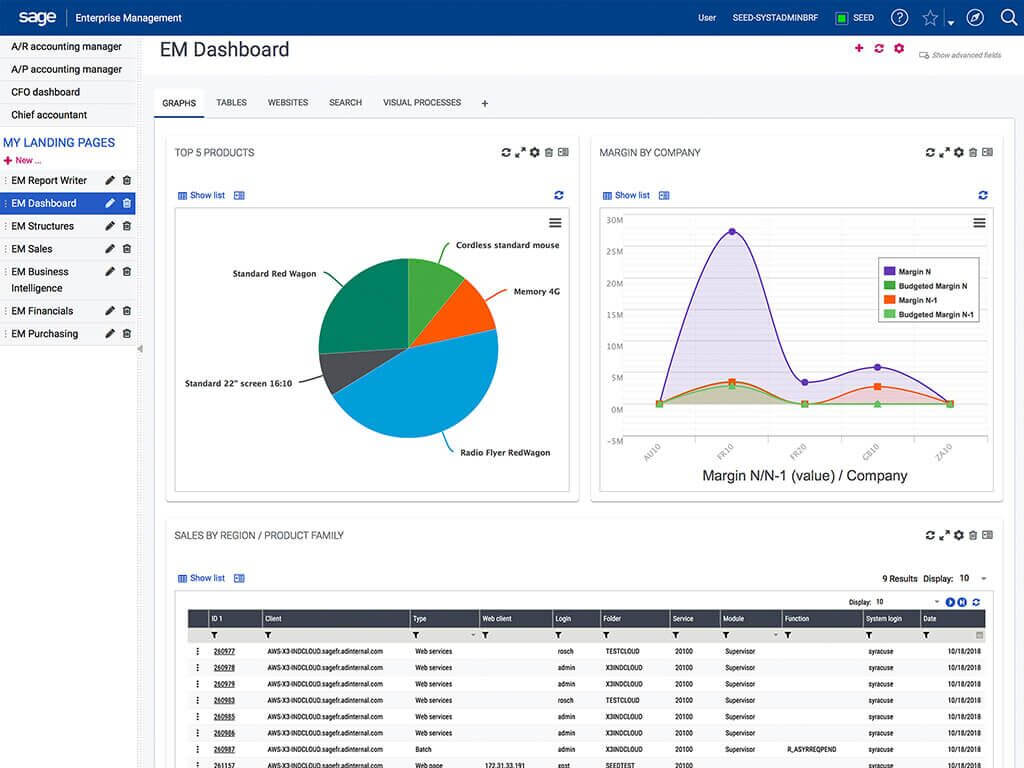 Sage Business Cloud Accounting, originally Sage One, is a multinational company that provides online accounting and business services. It was started in 1981 in Newcastle, England, with the goal of developing estimating and accounting software for small enterprises. It is now cloud-based, and you can select your sector, company size, and demands. It is used by over six million organizations and will match you with particular accounting solutions.
Sage Business Cloud Accounting is a respectable firm that offers software that does not require any accounting knowledge and is designed for many users. For no additional charge, your accountant can utilize the software and access your books.
The following are some of the features of Sage Business Cloud Accounting:
Manage the company's finances and cash flow.
Receive and accept payments.
Create and send invoices
Manage payroll
Tax compliance tools
Available on all devices so you can check your financials on the go
Integrate with your financial institution and other apps including AutoEntry, Zync, and more
Dashboard view of financial statistics and analyses in an easy-to-read format
Inventory management
Cash flow projections
Share real-time access with your accountant on any device.
Human resource management and estimating are examples of add-ons.
#4 AccountEdge Pro - The best for experienced accountants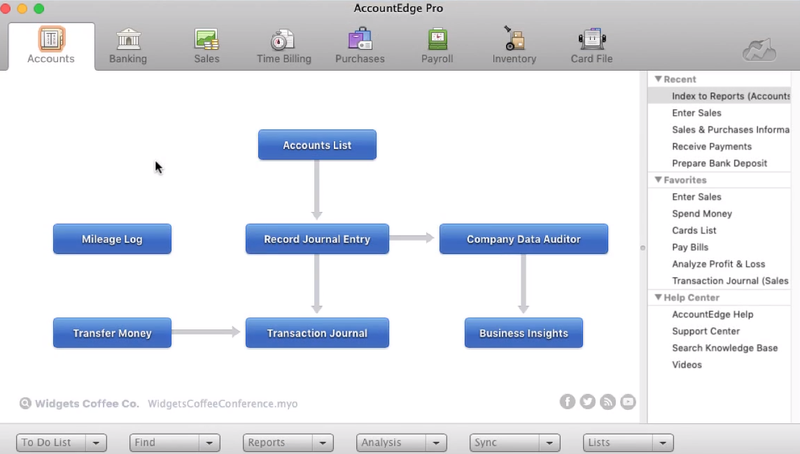 AccountEdge Pro is desktop accounting software for small businesses that was launched in 1989 and has since evolved with new features and advancements. You may utilize their cloud-based app or hosting platform to access your funds while on the go or from your smartphone. It's intended for small to medium-sized enterprises, comes in a basic and pro edition, and provides comprehensive accounting solutions with plenty of customization options.
Because of its rich features and reporting capabilities, we chose AccountEdge Pro as our top accounting software for experienced accountants. Because it is more technical than some of the other tools, it is helpful if you are already familiar with the accounting language.
AccountEdge Pro includes the following features:
Feeds from banks with integration
Deposit through direct deposit
Inventory management
Processing of payments
Convert quotes into invoices
Management of customers and vendors
Full-service payroll
Free accountant copy
On a single invoice, each line item has its own sales tax code.
Data sync with company files
Email assistance is available.
The bottom line
All of our best recommendations need little to no accounting knowledge, offer affordable, configurable accounting capabilities that interact with other software and apps, and give cloud-based backup alternatives. You can choose any software that you like from our list of best account software online.